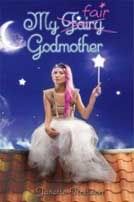 I have sung Janette Rallison's praises before. She's one of my favorite authors! (Someone PLEASE make one of her novels into a movie!) When I lay in bed reading her books well into the night, I laugh furiously, face pressed into my pillow, and pray I don't disturb my husband. That's how good her books are.
So today I am thrilled to be reviewing MY FAIR GODMOTHER.
After her boyfriend dumps her for her older sister, sophomore Savannah Delano wishes she could find a true prince to take her to the prom. Enter Chrissy (Chrysanthemum) Everstar: Savannah's gum-chewing, cell phone–carrying, high heel-wearing Fair Godmother. Showing why she's only Fair—because she's not a very good fairy student—Chrissy mistakenly sends Savannah back in time to the Middle Ages, first as Cinderella, then as Snow White. Finally she sends Tristan, a boy in Savannah's class, back instead to turn him into her prom-worthy prince. When Savannah returns to the Middle Ages to save Tristan, they must team up to defeat a troll, a dragon, and the mysterious and undeniably sexy Black Knight. Laughs abound in this clever fairy tale twist from a master of romantic comedy.
What I liked about this book: Absolutely everything--but mostly the humor. Rallison takes ordinary, swoon-worthy fairy tales and points out their major, drastic flaws in a way that will have you laughing and crying until the very end of the book.
What I liked about the main character: At first you don't like Savannah. She's gorgeous, everyone loves her, life's perfect, and she takes it all for granted. Until her boyfriend dumps her in favor of her older, smarter, more organized sister. And then Savannah realizes she's got a lot of growing up to do and you can't help but love her.
The Romance: As always, Rallison builds this up to frustrating proportions before giving any type of relief. The romance is smoking.
The other thing I liked: Well, there are too many other things that I liked to pick just one. First of all, the mysterious Black Knight was absolutely yummy, even if we couldn't see his face. And the other love interest, the boy Savannah goes back to the dark ages to save? Even yummier. And then there's the little curse Savannah has--if she tells a lie, an amphibian grows in her mouth, but she's put in predicaments where the truth can't be told, so she's spitting out a lot of amphibians.
All in all, this is a book that will be on my all-time favorites list.